And thus, I'm coming out in all my geekiness! A warm and somewhat waterproof jacket, and fellow geeks will recognize the Star Wars rebellion symbol. Now the big question… will I dare wear it in public to the "Last Jedi" tomorrow???
Since I live in a rather wet part of Europe, and do a minimum of 2 school runs a day through any weather, by foot or bicycle, I need good and weatherproof jackets. There are very few fleeces or softshell jackets in the shops which cover the hips and bum. I really do prefer my bum warm. Also a slightly longer jacket feels a bit more feminine.
An optically thinned waist… thank you neon piping magic.
I found the Sunday Jacket at Style Arc was closest to what I had in mind (sporty jacket with a waist/raglan sleeves/hood). I only needed to lengthen it, which I did with a rounded rear.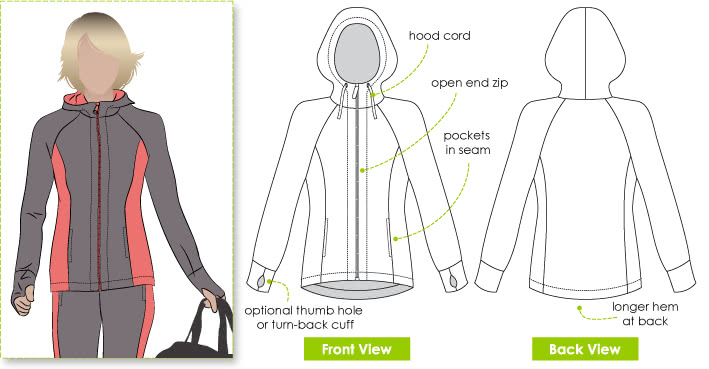 It may look like I'm desperately trying to flash my … grey T-shirt, I'm actually showing off the lining!
Alterations to the Sunday Jacket:
lengthening
rounding off the rear and sides
adding piping for a dramatic sporty effect
lining it, as the rough part of the softshell fabric does not agree with any pullover worn beneath
I've waited a month for the eyelets I ordered to make the hood cord [twice they sent the wrong ones] and when I finally got them I noticed the hood is tight enough you don't need any! So I omitted them.
took in the waist in the back/side a bit
Comments about the pattern:
the hood is pretty pointy
a bit tight under the arms, especially for a sporty jacket
the sleeves are a touch too short
pockets not quite deep enough to be comfy
Although I'm very pleased with it, the fabric is a bit too bulky. The pockets gape, I may have to close them.
And now, let's hope no-one from the Dark Side reads sewing blogs… otherwise I'm done for!