Recently I've tried challenging myself to try sewing not form-fitting dresses. The last one, ended up waisted. Then I picked this cool pattern by Style Arc knowing I would not be able to somehow turn it into a silhouetted dress.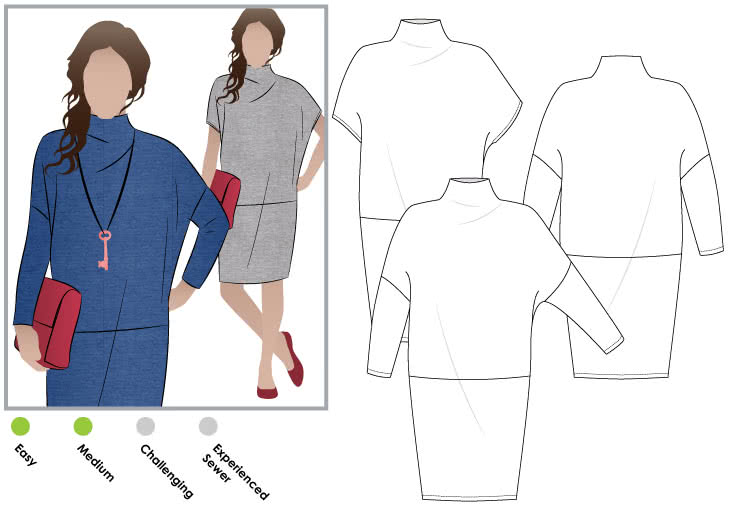 But it turned out to be a really lengthy process, though it had looked so simple. It's a simple pattern, no lining, no details, it should have been ready in a few hours, yet in the end it took me months. The neck was soooo narrow I could hardly pull it on, also the dress was a bit short, and the bulk of the dress was diamond-shaped in a weird way. But I bit the fabric hard and did not let go. Hrrrr.
The diamond: I guess my Punta di Roma is a bit too rigid and does not hang as it's meant to (see illustration above). Or maybe it's not stiff enough to make a proper neoprene geometric designer statement. It's teletubby without the TV.
So I took the horizontal seam in a bit, to remove some of the front and back bulk. It worked but left me with a very obvious side bulk. And the dress had gotten quite a bit shorter:
Onto removing the side bulk, it's slowly better, still a baggy dress, but less Teletubbie. But too short, it's not even hemmed!
Luckily I had some spare fabric left to make a new skirt part, a smidgen longer.
Neck problem area: if I hemmed the turtle neck, I could not pull it over my head (my head is small btw). So I reduced the height of the turtle neck, that helped but not enough. In the end I only partly hemmed the shorter neck, and left a folded unhemmed part to allow enough stretch to just be able to pull over my head.
All in all a very comfortable dress to wear, elegant in a relaxed way, but not worth the hassle of faffing about for months.
I shouldn't adjust my bun in public, it gets reaaaally short.
Are there any more similar patterns out there? I like this type of dress with slightly futuristic elements but in a comfy, slouchy way.